Quality Powder Coating is known for its top-of-the-line powder coating finish. The process we use creates our high-quality finish that will keep your metal looking new, year after year. We have perfected our powder coating process to bring you the highest quality in powder coating. Our team works with two ovens that helps create a quicker turn around. Here's a quick look at our powder coating process:
Quality Powder Coating Warranty
Quality Powder Coating, in the Utah Valley, provides a 1 Year Warranty on all projects that are Sandblasted, Primed, and Powder Coated with our outstanding process. This Warranty protects against corrosion, rust, chips, peeling and fading. Warranty begins when service is invoiced or picked up whichever is soonest.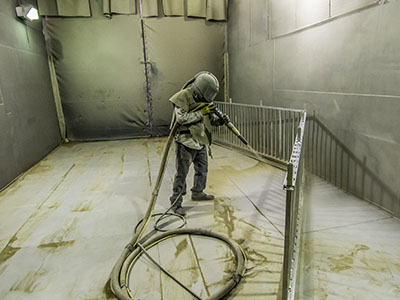 Step 1
Sandblasting to SSPC-SP 5/NACE or "White Finish" that:
-Cleans metals of all impurities including rust, paint, and rough surfaces
-Adds a profile to the surface of the metal that creates a seamless bond between the metal substrate and the powder coat
Step 2
Epoxy Prime the Surface:
-Our Powder is formulated to provide a tough surface that is resistant to chipping, rust, and corrosion
-Maintains a shiny, vibrant color without chalking and weathering
-Powder coat does not contain pollutants including volatile organic compounds which is safer for us and the environment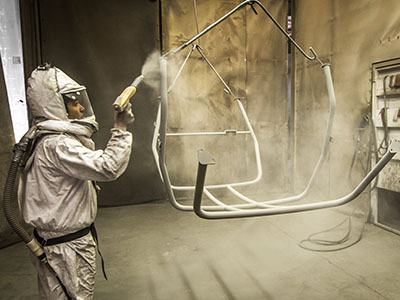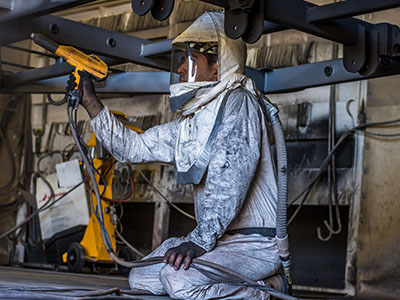 Step 3
Powder Coated with TGIC Polyester Top Coat:
-Our Powder is formulated to provide a tough surface that is resistant to chipping, rust, and corrosion
Maintains a shiny, vibrant color without chalking and weathering
-Powder coat does not contain pollutants including volatile organic compounds which is safer for us and the environment